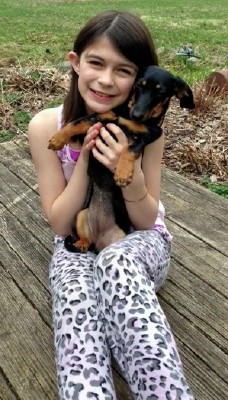 Dear Kim,
I don't know if you remember us but we bought Dottie and we just wanted to let you know what a wonderful, adorable,amazing and playful addition she has been to our family.
She loves to be outside, she is very playful but also loves to snuggle we can't thank you enough for our perfect dachshund puppy!
Sincerely
- Stephanie & Mark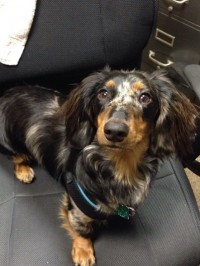 Hey Kim, Lesle and I just wanted to give you an update on Brody. He's been the absolute best friend a family could ask for and he has a personality like no other. We're so glad to have the opportunity to have him in our family and look forward to soon getting him a brother or sister to have as well. When we do we will look no other place than yours. Thanks again
- Matt and Lesle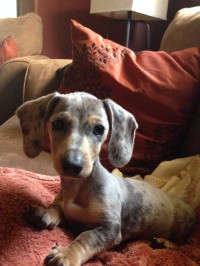 Hi Kim!

I'm not sure if you'll remember us or not, but this is Melissa Goldman and Jon Garcia. We're the couple that took the little blue dapple puppy with the adorable overbite back at the end of May. When we left with him, we promised to send you an update and even though it's been awhile now, we still haven't forgotten and we wanted to come through on our promise.

We truly couldn't be ANY happier with Stanley!!! He is the funniest, cutest, happiest, most lovable little guy and we just absolutely love him to pieces! He brings SO much joy to our lives! Every day we can't wait to come home to his little smiling face and wagging tail. Stanley loves to play fetch with his daddy Jon and go for walks with both of us. He is THE BEST cuddler around and he loves to keep watch of our street from the top cushion of the loveseat with his cat brother Wendell (they are wonderful neighborhood watchmen haha)! Stanley also loves all of the other dogs in our extended families (two of which are his "half siblings" that my mom Barbara owns from the litter that was born shortly after Stanley) and has regular playdates with them.

Stanley was a fantastic addition to our little family and we want to thank you from the bottom of our hearts for allowing him to become a part of our lives! We wouldn't hesitate to recommend you to anyone looking for a puppy (and maybe we'll be back in a couple years to find Stanley a puppy sibling…don't tell Jon I said that haha)! Attached are a few pictures ranging from when we first brought him home up until just recently.

Thanks again!
- Melissa Goldman and Jon Garcia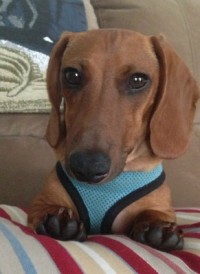 Hi Kim,
I hope all is well, I know it has been a awhile since my last update on Fritz so I wanted to let you know how he was doing. He has completely stolen our hearts, he is an incredible puppy. He loves to swim and enjoys bath time way more then any other dog I know. He loves to go to the dog park and chase his ball around, and once he gets tired he retires to the shade to lay down and relax. He even went on his first plane ride for vacation, he was such a good boy no one even knew he was there. He is my constant companion and he comes almost everywhere with me. Thank you so much for putting so much care into your dogs, I am sure that is why he is such a great companion.
Best Regards,
- Cara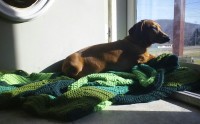 Hi Kim, this is our beloved Ozzie that we purchased in 2007, he was born in Nov of 2006. As you can see he is a tad bit spoiled, he is a social butterfly,loves everybody, and makes everybody pay attention to him. He is just wonderful and we love him dearly! He is a bit of a brat! So mischievous even at his age he has quite the temper that just makes us laugh. We thank you very much for "our boy".
- Don and Annette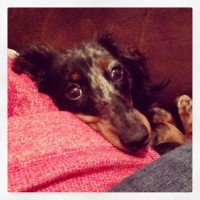 Hey Kim!!
I just wanted to shoot you a quick email and just say thank you. I never was a dog person growing up. I never wanted a dog I loved my cats haha. When I met mike all he talked about was wanting a long haired dachshund so I let him talk me into it since I forced him to take in 2 cats lol. Ralphie has literally changed my life. He is the sweetest kindest puppy I have ever met. I have so much love for him. He knows when I'm not feeling well or am in a bad mood and he comes over to comfort me. I don't know what you do to your dogs but it's amazing. You can absolutely tell that they came from a home with such warm hearts. It breaks my heart when we can't take him places with us and I so look forward to the weekends when I can spend the most time with him. He loves us both so much and I can't imagine not having him!! I can't wait to come back and find another perfect dog from you in the future. We are so grateful for you!! Thank you so so much!!!
Love,
- Mike, Jess, and Ralph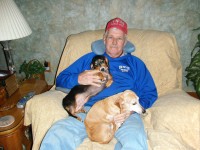 Hi Kim,

Just a note to tell you how wonderful both of our girls have been. We got Molly in 2002. She is so calm and loving….and just a joy all the time. She is getting a little grey and walks slowly sometimes when the weather is cold and damp….but all in all she is still very active. Cassie we have had since 2007 and she too is a wonderful loving dog. She is a little more needy that Molly and is in constant need of attention. They get along wonderfully all the time. They bark when someone comes to the door, but quickly lick and jump on them for attention. Cassie even got into the UPS truck with the deliveryman one time. I was looking for her and out he comes with her under his arm. He gets upset when he makes a delivery and doesn't get to see them both. I have a 5 year old Grandaughter that I have watched since she was born. She plays with both of them all the time….covers them up….gets in their bed with them….and never have either of them snapped or nipped at her. They are wonderful dogs! This picture is with their "Daddy" in their favorite spot his lap. If he is home that is where they are all the time. Thanks for the wonderful girls…..we know where we will go if we want another great dog to add to our family!

- Linda Duncan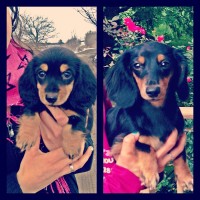 Hi Kim! Just thought I would share a picture with you of Bella! On the left is her when she left your house and on the right is her today! She is such a little love bug and is spoiled with love everyday!
- Rachel Sardisco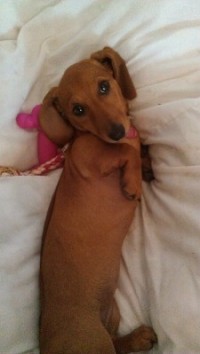 I purchased Fiona from you back in June. I just wanted to give you an update and picture. She is a precious little princess. She has been a wonderful addition to our lives! She is such a naturally well behaved little girl and we love her to death. Thank you for giving us such a great little dog.
- Megan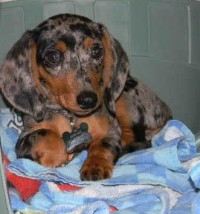 Kim
I just wanted to send you a note with a Duncan Donut update. Duncan "Dunkie Doo" or "Doodle" depending on the day, is a wonderful puppy. He is absolutely beautiful, sweet tempered, doing well on potty training, and loves his crate. He can even sit with a hand signal, and walks on a leash. He starts STAR puppy training this Wednesday, and I know he's going to be great. He's such a happy guy, and my Thurman loves him. He has been a wonderful addition to our family, especially Thurman, who has gotten a whole new leash on life and is totally re-energized. It's been great to see the two of them together.
Thank you so much. I've had 13 wonderful years with my Thurman, and I'm looking forward to more great years with them both.
- Cathy Buyer-Davis, Thurman and Dunkie