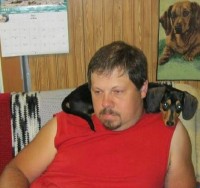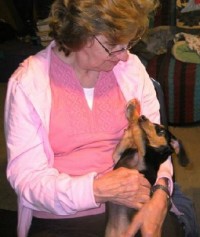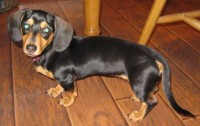 Kim,
We have been wanting to send pictures of the puppy we got from you on March
19th, but have had a hard time getting Kricket to hold still long enough!
I did finally get a couple of good ones. As you can see, she is queen of
the house and has my husband and mom wrapped around her little paw (along
with anyone else she meets). She is doing great and growing fast - almost
8 lbs now. I can't believe she was so little when we brought her home!
Her potty training took no time at all.She is so lovable (we have to
snuggle every morning and evening) and very active - she loves to play
outside. She keeps us all laughing!
Thank you so much for breeding such wonderful puppies!
Also, I wanted to mention that our vet was very impressed when we took her
for her first visit. He said that she was in perfect health and was
pleased that she had already been started on a wormer. Apparently many
breeders don't worm the puppies before sale. Anyway, you've made a good
impression with the vet down here as well as with us.
Thank you again,
- Julie, Kevin and Kricket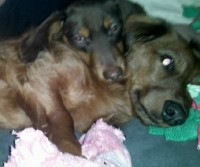 Kim,
We just wanted to thank you so much for the wonderful addition to our family. It took Bella a little while to get used to him, but now Bella, and Brody are best friends. He completed our home better then we could have ever imagined. I would like you to post this so everyone knows how great you guys are!! Thank you again.
- Sean, Lauren, Bella and Brody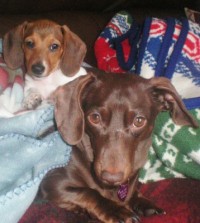 Wyatt has settled in very nicely with our Wilma and they have become the best buddies… again you have wonderful dogs and we would recommend you to other people wanting a Doxie. Life is not complete with out one or two, they by far are the best dogs ever and make the most wonderful additions to any family.
- Debbie, Jerry and Wilma Lyons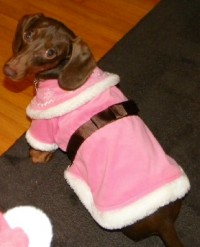 We purchased our puppy from you in April 2010 and I cannot thank you enough for this bundle of joy! Bella has brought nothing but love into our home and she brings a smile to our faces every time she does something silly with those short little legs of hers! I can't believe that she will be a year old in a few weeks. She will also be a big sister soon since my fiance and I are expecting our first baby this spring. She loves my nephew and niece already so I know she is going to love having a little one of her own! I have attached a photo of her first Christmas with us this year and again, thank you so much for giving us such an amazing dog that has become a huge part of our family!
- Jessica and Andrew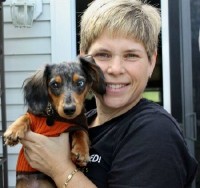 Hi Kim,
I wanted to send you this picture of our Teddy, born on 1/7/10. He has been a true joy to our family!! We cannot begin to tell you how cute of a personality Teddy has. Of course he is spoiled by everyone in the house, but you can't help it because he is so sweet. He has also turned into quite the lap dog. He doesn't wear clothes a lot but he loves having a sweater on when it is cold. We could not have picked a nicer dog. Thank you so much for raising such adorable puppies!!
Sincerely,
- Ellen and Gina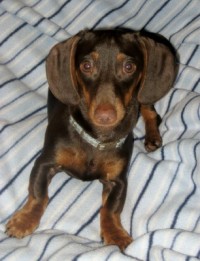 Jake and I can't believe how quickly Cosmo has grown. He is beautiful, playful and snuggly! We love him so much! Hopefully, we will be back in a few years for a little brother or sister for Cosmo!
Thank you for all you have done for our family!
- Carrie Meisner & Jake Herrmann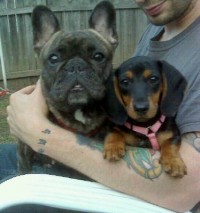 Kim,
Roxie is a delight. We absolutley love her, she's so smart and pretty! And….she and Ola (our Frenchie) are now best friends for life. Thanks so much for making wonderful dogs!
- Sara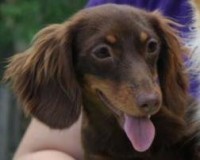 Kim and Family,
I am so thankful for you and your family for providing my family with Lilly! Lilly is the most loving, sweet, happy and playful little dachshund! She brings so much joy to my husband and I (and ALL of our extended family!!) I am so glad we found such a warm and caring family breeder! Thank you for answering all my questions in the beginning since I was new to pet owning!! We are soooo excited to welcome Teddy, our second addition into our family soon! Lilly is going to love to play with him!

Thanks for all you do!
- Megan Schroeder
Hi Kim and Family, Just wanted to take this opportunity to wish you all good cheer and to thank you again for our wonderful "children". Remy and Jack-Bauer (aka Luigi) are our pride and joy. It is so amazing, the affection they have for one another. They run and play hard all day long, but when they stop to rest, they snuggle together on the couch and oftentimes you'll find Jack with his "arm" around Remy's neck, or they'll just lick each other on the nose and ear. Remy even house-trained Jack for us, too. We were so lucky to find you….I will contiue to recommend you to anyone looking to own one of your darling dachshunds. Merry Christmas to you all! P.S. Please tell Reid that we couldn't love Jack any more than we do. As you mentioned when we came to pick out another dog, he is very special.
- Andrea, Mike, Remy and Jack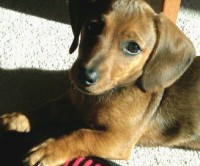 Hey Kim,
Just wanted to let you know that Oliver is doing wonderful! He is really doing well with house-breaking. He absolutely loves all the toys you sent with us. Especially his blanket and the pirate toy that laughs. I'm sure everyone thinks this, but I think we got the best one from the bunch. He is cuddly and playful, and loves his stomach to be rubbed. He took to his crate really well and sleeps by himself without any fuss. He is a great addition to the start of Andrew and I's family. Thanks so much for everything.
- Leah, Andrew and Oliver:)