Walton's Dachshunds is located in rural Western New York. We are breeders of AKC miniature and small standard dachshunds in most colors and patterns and all three coat types. Our puppies are raised in our home in a warm, loving environment with lots of attention and affection from all members of our family.
We strive to provide you with an adorable, healthy, playful puppy that will be a treasured member of your family for many years to come. We like to think they go from our lap to yours!
We are fully compliant with the American Kennel Club, and we are licensed by the New York State Department of Agriculture and Markets.
PD714
Upcoming Litters
Happy words from happy owners...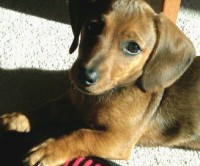 Hey Kim,
Just wanted to let you know that Oliver is doing wonderful! He is really doing well with house-breaking. He absolutely loves all the toys you sent with us. Especially his blanket and the pirate toy that laughs. I'm sure everyone thinks this, but I think we got the best one from the bunch. He is cuddly and playful, and loves his stomach to be rubbed. He took to his crate really well and sleeps by himself without any fuss. He is a great addition to the start of Andrew and I's family. Thanks so much for everything.
- Leah, Andrew and Oliver:)