Walton's Dachshunds is located in rural Western New York. We are breeders of AKC miniature and small standard dachshunds in most colors and patterns and all three coat types. Our puppies are raised in our home in a warm, loving environment with lots of attention and affection from all members of our family.
We strive to provide you with an adorable, healthy, playful puppy that will be a treasured member of your family for many years to come. We like to think they go from our lap to yours!
We are fully compliant with the American Kennel Club, and we are licensed by the New York State Department of Agriculture and Markets.
PD714
Upcoming Litters
Happy words from happy owners...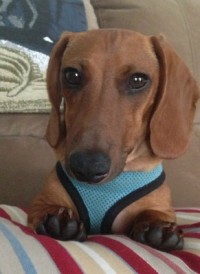 Hi Kim,
I hope all is well, I know it has been a awhile since my last update on Fritz so I wanted to let you know how he was doing. He has completely stolen our hearts, he is an incredible puppy. He loves to swim and enjoys bath time way more then any other dog I know. He loves to go to the dog park and chase his ball around, and once he gets tired he retires to the shade to lay down and relax. He even went on his first plane ride for vacation, he was such a good boy no one even knew he was there. He is my constant companion and he comes almost everywhere with me. Thank you so much for putting so much care into your dogs, I am sure that is why he is such a great companion.
Best Regards,
- Cara