Walton's Dachshunds is located in rural Western New York. We are breeders of AKC dachshunds in most colors and patterns and all three coat types. Our puppies are raised in our home in a warm, loving environment with lots of attention and affection from all members of our family.
We strive to provide you with an adorable, healthy, playful puppy that will be a treasured member of your family for many years to come. We like to think they go from our lap to yours!
We are fully compliant with the American Kennel Club, and we are licensed by the New York State Department of Agriculture and Markets.
PD714
The little black and tan girl I posted is ready to go now. She was 8 weeks old this past Sunday. We are asking $1250 with an AKC limited registration application...we don't sell our pups with breeding rights. I do expect her to be in the mini range as an adult based on her parents, but there is never a guarantee. Please take a minute to read over the purchasing info ......it may help answer a lot of your questions. I know it's confusing, but though I can update the text on this site, because the software is outdated I can not update pictures at this time. Pictures of pups can be found on the Walton's Dachshunds Facebook page whenever available for the time being until I can find an affordable solution.
Upcoming Litters
Happy words from happy owners...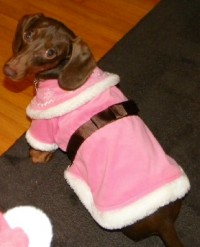 We purchased our puppy from you in April 2010 and I cannot thank you enough for this bundle of joy! Bella has brought nothing but love into our home and she brings a smile to our faces every time she does something silly with those short little legs of hers! I can't believe that she will be a year old in a few weeks. She will also be a big sister soon since my fiance and I are expecting our first baby this spring. She loves my nephew and niece already so I know she is going to love having a little one of her own! I have attached a photo of her first Christmas with us this year and again, thank you so much for giving us such an amazing dog that has become a huge part of our family!
- Jessica and Andrew