Walton's Dachshunds is located in rural Western New York. We are breeders of AKC dachshunds in most colors and patterns and all three coat types. Our puppies are raised in our home in a warm, loving environment with lots of attention and affection from all members of our family.
We strive to provide you with an adorable, healthy, playful puppy that will be a treasured member of your family for many years to come. We like to think they go from our lap to yours!
We are fully compliant with the American Kennel Club, and we are licensed by the New York State Department of Agriculture and Markets.
PD714
*UPDATE 8/18/2022*
A little more info regarding the pups we posted: Bedelia (12 pounds) and Jasper (9 pounds) boys born 7/9. Will not be available until 9/3 or later. Arry (15 pounds) and Victor (11.5 pounds) pups were born 7/17 and won't be available until at least 9/11. Aspen (12 pounds) and Victor (11.5 pounds) pups were born 7/ 19 and won't be available until at least 9/13 and Ellis (18 pounds) and Victor's (11.5 pounds) remaining available pup was born 7/28 and won't be available until at least 9/22. Please don't ask me if the pups will be mini ....you now have as much info and as much control as I do over their ultimate adult weight. I would not be willing to guarantee that any of these pups will be true mini (11 pounds and under) but only Ellis's pup should be close to standard sized. There are 2 pups with incorrect bites and I will point those 2 out . These pups have not had their health evaluation yet, but in previous appointments the vet has indicated that the jaws grow at different rates and incorrect bites can correct themselves in time, but if they still have improper bites at their vet visit we will offer a discount. We aren't really going to be able to show the pups in person til they are weaned because when one mama gets a little stressed and anxious they kind of feed off each other and we are trying to keep the vibe low key as much as possible while everyone is still nursing. The exception will be the fella born on April 30th. He is old enough for his meet and greet to take place outside . Again, we sell all of our pups with AKC LIMITED registration applications with no breeding or showing rights. Please take a few more moments to read over the information provided on these pages....many of your questions can be answered right here. If you see a pup you are interested in, please confine any further questions to either Facebook messenger or email. Any questions on fb, presented as a comment, will be deleted as they no longer allow the sale of puppies. Unfortunately, 2022 has ushered in the need for yet another increase in price. Though we are well aware we ask less than most breeders, even unlicensed breeders, it still pains us greatly to have to raise our price, but our very first vet visit of the year we discovered that the cost of their services raised significantly as of January 1st, as has the cost of the professional sized bags of Royal Canin puppy chow, not to mention gas for vet visits and propane to keep the babies warm and just all of the things we need to keep the babies safe, happy and healthy. . As always, sales tax is included in the price of your pup. So effective immediately, the cost of each pup is $1,200 unless otherwise noted. Thank you so much for taking time to read through this, and we hope you enjoy the puppy pictures!
Upcoming Litters
Happy words from happy owners...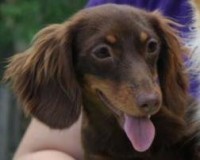 Kim and Family,
I am so thankful for you and your family for providing my family with Lilly! Lilly is the most loving, sweet, happy and playful little dachshund! She brings so much joy to my husband and I (and ALL of our extended family!!) I am so glad we found such a warm and caring family breeder! Thank you for answering all my questions in the beginning since I was new to pet owning!! We are soooo excited to welcome Teddy, our second addition into our family soon! Lilly is going to love to play with him!

Thanks for all you do!
- Megan Schroeder