Walton's Dachshunds is located in rural Western New York. We are breeders of AKC dachshunds in most colors and patterns and all three coat types. Our puppies are raised in our home in a warm, loving environment with lots of attention and affection from all members of our family.
We strive to provide you with an adorable, healthy, playful puppy that will be a treasured member of your family for many years to come. We like to think they go from our lap to yours!
We are fully compliant with the American Kennel Club, and we are licensed by the New York State Department of Agriculture and Markets.
PD714
*UPDATE 5/21/2023
We are getting ready to offer our newest litter of available pups. We are anticipating that they will be mini or small tweenies. Due to software incompatability, we will be putting pictures on facebook, but as facebook does not allow the sale of animals, any questions will need to be via messenger or email. Many general questions can be answered in the faq and purchasing information here. As always, sales tax is included in the price of your pup. Effective immediately, the cost of each pup is $1,250 unless otherwise noted. Thank you so much for taking time to read through the info on this site, and we hope you enjoy the puppy pics and videos!
Upcoming Litters
Happy words from happy owners...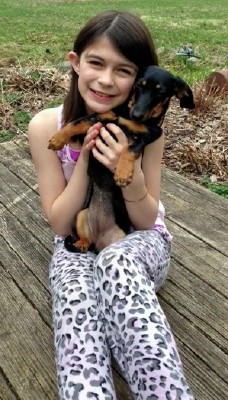 Dear Kim,
I don't know if you remember us but we bought Dottie and we just wanted to let you know what a wonderful, adorable,amazing and playful addition she has been to our family.
She loves to be outside, she is very playful but also loves to snuggle we can't thank you enough for our perfect dachshund puppy!
Sincerely
- Stephanie & Mark