Walton's Dachshunds is located in rural Western New York. We are breeders of AKC miniature and small standard dachshunds in most colors and patterns and all three coat types. Our puppies are raised in our home in a warm, loving environment with lots of attention and affection from all members of our family.
We strive to provide you with an adorable, healthy, playful puppy that will be a treasured member of your family for many years to come. We like to think they go from our lap to yours!
We are fully compliant with the American Kennel Club, and we are licensed by the New York State Department of Agriculture and Markets.
PD714
We have no pups available at this time.
Upcoming Litters
We don't currently have any upcoming litters but hoping that will change very soon!
Happy words from happy owners...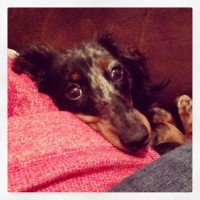 Hey Kim!!
I just wanted to shoot you a quick email and just say thank you. I never was a dog person growing up. I never wanted a dog I loved my cats haha. When I met mike all he talked about was wanting a long haired dachshund so I let him talk me into it since I forced him to take in 2 cats lol. Ralphie has literally changed my life. He is the sweetest kindest puppy I have ever met. I have so much love for him. He knows when I'm not feeling well or am in a bad mood and he comes over to comfort me. I don't know what you do to your dogs but it's amazing. You can absolutely tell that they came from a home with such warm hearts. It breaks my heart when we can't take him places with us and I so look forward to the weekends when I can spend the most time with him. He loves us both so much and I can't imagine not having him!! I can't wait to come back and find another perfect dog from you in the future. We are so grateful for you!! Thank you so so much!!!
Love,
- Mike, Jess, and Ralph