Walton's Dachshunds is located in rural Western New York. We are breeders of AKC dachshunds in most colors and patterns and all three coat types. Our puppies are raised in our home in a warm, loving environment with lots of attention and affection from all members of our family.
We strive to provide you with an adorable, healthy, playful puppy that will be a treasured member of your family for many years to come. We like to think they go from our lap to yours!
We are fully compliant with the American Kennel Club, and we are licensed by the New York State Department of Agriculture and Markets.
PD714
We do have pups available in both long and short coat as of 12/1. We are currently selling our pups for $1250 through the end of this year. We sell them with AKC limited registration applications and without breeding rights. Please feel free to reach out and watch the Facebook page for pictures and updates. Edited to add: Everyone is asking if we have mini pups, so to save myself typing this out over and over....we never guarantee adult Size, but having said that, many of the pups should be in the 11-13 pound range. True mini is 11 pounds and under, so you can see that they will be right on the cusp. Also, please take a minute to read over the purchasing info ......it may help answer a lot of your questions. Hope everyone is enjoying the holiday season!
Upcoming Litters
Happy words from happy owners...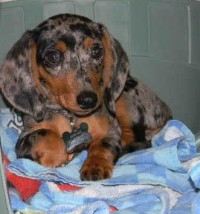 Kim
I just wanted to send you a note with a Duncan Donut update. Duncan "Dunkie Doo" or "Doodle" depending on the day, is a wonderful puppy. He is absolutely beautiful, sweet tempered, doing well on potty training, and loves his crate. He can even sit with a hand signal, and walks on a leash. He starts STAR puppy training this Wednesday, and I know he's going to be great. He's such a happy guy, and my Thurman loves him. He has been a wonderful addition to our family, especially Thurman, who has gotten a whole new leash on life and is totally re-energized. It's been great to see the two of them together.
Thank you so much. I've had 13 wonderful years with my Thurman, and I'm looking forward to more great years with them both.
- Cathy Buyer-Davis, Thurman and Dunkie