Walton's Dachshunds is located in rural Western New York. We are breeders of AKC miniature and small standard dachshunds in most colors and patterns and all three coat types. Our puppies are raised in our home in a warm, loving environment with lots of attention and affection from all members of our family.
We strive to provide you with an adorable, healthy, playful puppy that will be a treasured member of your family for many years to come. We like to think they go from our lap to yours!
We are fully compliant with the American Kennel Club, and we are licensed by the New York State Department of Agriculture and Markets.
PD714
Upcoming Litters
Happy words from happy owners...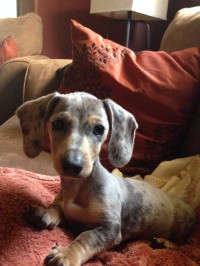 Hi Kim!

I'm not sure if you'll remember us or not, but this is Melissa Goldman and Jon Garcia. We're the couple that took the little blue dapple puppy with the adorable overbite back at the end of May. When we left with him, we promised to send you an update and even though it's been awhile now, we still haven't forgotten and we wanted to come through on our promise.

We truly couldn't be ANY happier with Stanley!!! He is the funniest, cutest, happiest, most lovable little guy and we just absolutely love him to pieces! He brings SO much joy to our lives! Every day we can't wait to come home to his little smiling face and wagging tail. Stanley loves to play fetch with his daddy Jon and go for walks with both of us. He is THE BEST cuddler around and he loves to keep watch of our street from the top cushion of the loveseat with his cat brother Wendell (they are wonderful neighborhood watchmen haha)! Stanley also loves all of the other dogs in our extended families (two of which are his "half siblings" that my mom Barbara owns from the litter that was born shortly after Stanley) and has regular playdates with them.

Stanley was a fantastic addition to our little family and we want to thank you from the bottom of our hearts for allowing him to become a part of our lives! We wouldn't hesitate to recommend you to anyone looking for a puppy (and maybe we'll be back in a couple years to find Stanley a puppy sibling…don't tell Jon I said that haha)! Attached are a few pictures ranging from when we first brought him home up until just recently.

Thanks again!
- Melissa Goldman and Jon Garcia