Walton's Dachshunds is located in rural Western New York. We are breeders of AKC miniature and small standard dachshunds in most colors and patterns and all three coat types. Our puppies are raised in our home in a warm, loving environment with lots of attention and affection from all members of our family.
We strive to provide you with an adorable, healthy, playful puppy that will be a treasured member of your family for many years to come. We like to think they go from our lap to yours!
We are fully compliant with the American Kennel Club, and we are licensed by the New York State Department of Agriculture and Markets.
PD714
Upcoming Litters
Happy words from happy owners...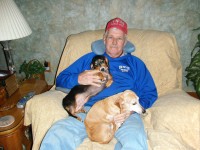 Hi Kim,

Just a note to tell you how wonderful both of our girls have been. We got Molly in 2002. She is so calm and loving….and just a joy all the time. She is getting a little grey and walks slowly sometimes when the weather is cold and damp….but all in all she is still very active. Cassie we have had since 2007 and she too is a wonderful loving dog. She is a little more needy that Molly and is in constant need of attention. They get along wonderfully all the time. They bark when someone comes to the door, but quickly lick and jump on them for attention. Cassie even got into the UPS truck with the deliveryman one time. I was looking for her and out he comes with her under his arm. He gets upset when he makes a delivery and doesn't get to see them both. I have a 5 year old Grandaughter that I have watched since she was born. She plays with both of them all the time….covers them up….gets in their bed with them….and never have either of them snapped or nipped at her. They are wonderful dogs! This picture is with their "Daddy" in their favorite spot his lap. If he is home that is where they are all the time. Thanks for the wonderful girls…..we know where we will go if we want another great dog to add to our family!

- Linda Duncan