Puppy Purchasing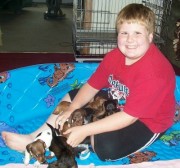 All puppies leave the Walton home with a health certificate provided by a NYS licensed veterinarian, vaccinations of Progard 5 (or like immunization) at age appropriate intervals and have been dewormed with a mild puppy wormer. Please note that it is not at all uncommon to take your pup to the vet only to discover that they still have worms. Due to the low strength of the deworming medication and the fact that some worms can only be eradicated during certain stages of their lifecycle, we may not have been completely sucessful in removing them from the pup.
The pups also leave with a puppy food starter kit provided by Royal Canin, and a soft toy or blanket that carries the scents of their litter mates and their mother to help ease the transition into their new home.
Puppies are sold with limited AKC registration.
We do not ship our pups.
Sales tax is included in the price of each puppy. Current purchase price is $1150
IF YOU WISH TO RESERVE A PUPPY, A DEPOSIT IS REQUIRED.
We do reserve the right to refuse to sell a puppy to anyone for any reason.
We do, on occasion, put pictures of our brother in law's pups on our site. As we are not personally offering them for sale, and he is not licensed by the state, the policies and practices adopted by us do not necessarily apply to his puppies. He would be glad to give you any information about his own pups.
Guarantees
We strictly adhere to the New York State puppy lemon law which states, in part, that the new owner of a puppy purchased in NYS has fourteen business days to take their puppy to the vet and if they find it unfit for sale the buyer has the right to a full refund upon surrender of the puppy, a replacement puppy of equal value, or up to the purchase price to treat any conditions rendering the puppy unfit for sale. As per lemon law, this does not include any internal or external parasites, though every effort is made on our part to make sure that each puppy is parasite free. The Sale of Dogs Notice (NYS puppy lemon law) states the pups are not to be sold prior to 8 weeks of age. So in order to protect our pups, and maintain our licensed status, we can not and will not allow a pup to go to their new home even 1 day before they turn 8 weeks old.
Payment Methods Accepted
We will accept cash, personal checks, money orders, and credit cards through Square. There will be a $40 fee added to the price of each pup for those using credit cards to help defray the cost of the processing fees associated with these payment methods. Please note that there will also be a $40 fee for each check RETURNED for any reason.
Refunds
Refunds of full purchase price are decided on a case by case basis. All deposits are non-refundable.