Hi Kim,
Jake and I wanted to thank you for Cosmo! He is the best puppy. He is so playful and sweet-the perfect addition to our family!!
- Carrie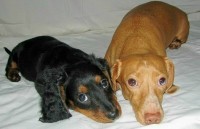 This is Jet(3yrs.) and Donut(almost1)! They are so playful and loveable. Thank you so much, Kim, for putting forth so much effort and raising beautiful Dachshunds! We are so happy with our Doxie Babies. I can't imagine our life without them.
- The Neufeld Family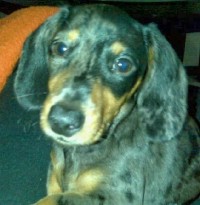 Dear Kim,
We just wanted to let you know that Jack is great. We thank you so very much for our adorable dachshund. He loves to cuddle, is loveable and just like you said, gives lots of kisses. It is evident that you take very good care and give lots of love to the puppies. Hopefully we will make the trip to come get another in the future.
- Tim and Stephanie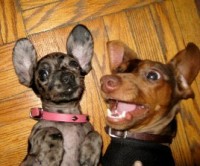 Kim,
I just want to say thank you again for the second addition to my family. Little Leelu is so sweet and loving, and is a cuddler just like Milo. They play together constantly, and keep each other company while I am away.
THANK YOU!!
- Lauren Newton
Just wanted to tell you Our Little Wilma is such a wonderful little girl. She is the perfect balance in what everyone would want in a puppy…..smart, clever, playful and a snugglebunny and most of all, simply down right adorable. You have done a wonderful job with your dogs in the past, and I am sure will continue in the future. I would recommend you to anyone that would want a mini doxie. They, by far, are the best dog to have. Life isn't complete until you have one or two. Thanks again.
- Debbie and Jerry Lyons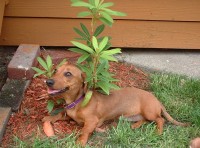 "Thank you so much for what your family does! Sadie is the greatest little bundle of joy that has been added to our family. She is proof that your dachshunds are raised in a loving and caring environment. Thank you again!"
- Lindsey, Paul and Sadie Wrobel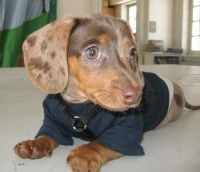 "Thank you so much for little Milo. He has brought so much joy to my life, and to the lives of others."
- Lauren Newton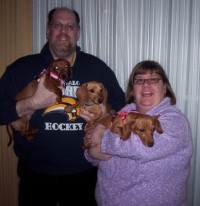 "Our family thanks Kim and Waldox so much. She was how we got Kishka (the one my wife is holding). We love her so much that we wanted to share that love with our family. So Kishka had puppies on our 10th anniversary, and our family loves them as much as we love our Kishka. Thank you Kim."
- Pat, Marcy, Kishka, Lody Basior and Mia Mruczek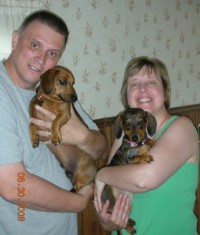 "Thank you so much for bringing Charlie and Lucy into our lives. They are so much a part of our family."
- Ralph and Joan Sharp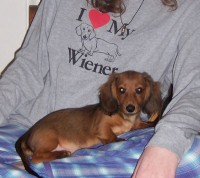 "Our new puppy, Emma is the cutest little doxie we could have hoped for. She has a wonderful personality and we feel that is due to the loving environment that Kim and her family provide. After losing another beloved doxie, we came across the Walton family who showed us great kindness and understanding and now we have a beautiful new addition to our home and family. We feel she was heaven sent!"
- Greg, Beth and Meg Blarr