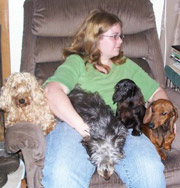 Walton's Dachshunds is located in rural Western New York. We are breeders of AKC miniature and small standard dachshunds in most colors and patterns and all three coat types. Our puppies are raised in our home in a warm, loving environment with lots of attention and affection from all members of our family.
We strive to provide you with an adorable, healthy, playful puppy that will be a treasured member of your family for many years to come. We like to think they go from our lap to yours!

We are fully compliant with the American Kennel Club, and we are licensed by the New York State Department of Agriculture and Markets.
PD 00714

My brother in law, Rich, still has 1 longhaired black and tan male pup available on the "other puppies" page. If interested, please contact Rich with information provided.
Upcoming Litters:
August 27th, 2014~Walton's Have a Little Hope and Turner's Jackson Pollock
We are hoping to have good news regarding Leetah and Jake, and Bunny and Rudee in the near future. Check back soon!
Happy words from happy owners...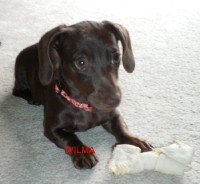 Just wanted to tell you Our Little Wilma is such a wonderful little girl. She is the perfect balance in what everyone would want in a puppy.....smart, clever, playful and a snugglebunny and most of all, simply down right adorable. You have done a wonderful job with your dogs in the past, and I am sure will continue in the future. I would recommend you to anyone that would want a mini doxie. They, by far, are the best dog to have. Life isn't complete until you have one or two. Thanks again.

- Debbie and Jerry Lyons