Walton's Dachshunds is located in rural Western New York. We are breeders of AKC miniature and small standard dachshunds in most colors and patterns and all three coat types. Our puppies are raised in our home in a warm, loving environment with lots of attention and affection from all members of our family.
We strive to provide you with an adorable, healthy, playful puppy that will be a treasured member of your family for many years to come. We like to think they go from our lap to yours!
We are fully compliant with the American Kennel Club, and we are licensed by the New York State Department of Agriculture and Markets.
PD714
All pups are now on the site. We so sincerely appreciate your interest!! There are several people on a list waiting to make their picks. It may take us a few days to get everything figured out, so please bear with us, as folks make their choices. There are still 4 more litters to go, and we are very excited to see what the next few weeks have in store for us. Check back often, as the availability status of these pups will probably be changing frequently.
Our brother in law still has one smooth black and tan girl that is ready to go now. She is an absolute doll. And trust me, she comes pre-spoiled! He also has a litter of longhair pups that are just opening their eyes. Hopefully we will have pictures of them available soon! Rich can be reached at 585-721-3507 and rjststella@yahoo.com
Upcoming Litters
April 20th~Leetah and Jake
April 20th~Venus and Finn
April 20th~Ivy and Buddy Too
April 28th~Sylvie and Jake
May 17th~Pixie and Finn
May 25th~Delta and Jake
May 27th~Mabel and Finn
June 1st~ Monica and Jake
June 12th~Rachel and Jake
Happy words from happy owners...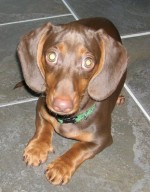 "Our puppy, Banjo, is a joy to have and to come home to everyday. Kim was extremely helpful both before and after we picked him up. She answered all of our questions before we got him, and has kept in touch and helped us out even to this day, assuring us and helping us grow as first time dachshund owners. We plan on picking up a friend for our little buddy from Kim in the future."
- Justin and Graysya Redenbach