Walton's Dachshunds is located in rural Western New York. We are breeders of AKC miniature and small standard dachshunds in most colors and patterns and all three coat types. Our puppies are raised in our home in a warm, loving environment with lots of attention and affection from all members of our family.
We strive to provide you with an adorable, healthy, playful puppy that will be a treasured member of your family for many years to come. We like to think they go from our lap to yours!
We are fully compliant with the American Kennel Club, and we are licensed by the New York State Department of Agriculture and Markets.
PD714
Currently, we have one female longhair black and tan available. I am having trouble with my photo editing software, but can provide pictures upon request.
If you see a pup that you are interested in, prior to contacting us, please take a few moments to read over the Purchasing Information and Frequently Asked Questions. You may find many of the answers to your questions, in addition to other helpful info regarding food, immunizations, purchasing process, etc...., on these pages. Please be prepared to provide us with some information about your home, household members, work schedules,and past and or current pet ownership.
Upcoming Litters
We hope to have news to share about Hattie and Midge in the very near future! Stay tuned!
Happy words from happy owners...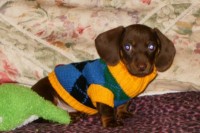 "Our new puppy has stolen our hearts! He is the new "King"of the household. He is catching on quickly to paper training and all in all we are very happy with him!"
- The Fraterrigo Family